Event Timings
Please come and join us.
To help you plan your day here are the timings of our events:
11.00 am - Log on
11.10am - Network in small groups in our "Reception Rooms"
11.20 am - Seminar starts + Q&A Session
11.45/11.50 am - "Virtual Table Time" - you will have the chance to chat with 5 or 6 other business owners or decision makers in a breakout room. A host will ensure that everyone has a chance to have their say before opening up into a general conversation.
12.45 pm - Close
Event Dates
A list of all our forthcoming events. Please click on the event for details of future Pre-lunch Seminars.
December: Wednesday 2nd, Online

Time - 11.00am

Presenter - Alex Crow

Topic - Virtual Mind Reading Show

We have a very special guest at this event.


Instead of a conventional seminar you'll be treated to a Virtual Mindreading Show!


During the show you'll see Alex read and influence minds, duplicate unseen drawings, make incredible predictions and more.


It will be interactive

It will be mind boggling and fun

And it will certainly be different

Join us for our last event of the year and prepare to be amazed and astounded!

January: Wednesday 20th, Online

Time - 11:00 am

Presenter - Will Kintish

Topic - Taking you from

Although the signs are positive and we'll hopefully be able to meet up again face to face in the not too distance future it seems that online networking is here to stay and we'll all need to get used to a blend of different networking opportunities so this seminar is one not to be missed.

Topics Covered

Explaining the basics of online networking
Creating the right impressions through the camera
Building relationships through rapport and reliability
Conversations- Breaking the ice; Small talk; business questions
How to follow up in a professional manner

Although it is a short session there will be time for group discussions and time for action and feedback

What outcomes should you expect?

Understanding the real truth about networking
Reinforce existing relationships and build new ones
Get known by others
Get others to know what you do
Understand the power of LinkedIn
Asking the right questions
Following up in a professional and confident manner

ABOUT THE PRESENTER

Will qualified as a chartered accountant in 1971 and was in general practice for the next 30 years.

At the start of the 21st century he changed his career and since then he has shown thousands in the, academic, professional and financial communities, internationally, how to become more effective and confident networkers. Networking is fundamental to one's success yet so many people fear this activity. Will shows you how to overcome all your fears and concerns when working the room, how to spot lots of potential opportunities and how to follow up in a professional manner.

Since March he has been training clients in the best use of networking through helping them "Work the Zoom" rather than "Work the Room"! He explains building relationships remotely, when done effectively, can be as successful as face-to-face.

He has been awarded the Professional Speaking Award of Excellence the highest accolade available in the speaking profession.

He is the published author of the best-selling book "Business Networking -The Survival Guide"

February: Wednesday 10th, Online

Time -

Presenter - Yiannis Yianni - ActionCoach

Topic -

March: Wednesday 10th, TBC

Time -

Presenter -

Topic -

April: Wednesday 14th, TBC

Time -

Presenter -

Topic -

May: Wednesday 12th, TBC

Time -

Presenter -

Topic -

June: Wednesday 16th, TBC

Time -

Presenter -

Topic -

July: Wednesday 14th, TBC

Time -

Presenter -

Topic -

August: Wednesday 4th, TBC

Time -

Presenter -

Topic -

September: Tuesday 14th, TBC

Time -

Presenter -

Topic -

October: Wednesday 13th, TBC

Time -

Presenter -

Topic -

November: Wednesday 10th, TBC

Time -

Presenter -

Topic -

December: Wednesday 1st, TBC

Time -

Presenter -

Topic -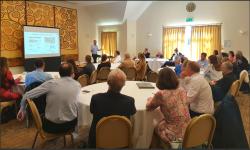 Come and join us at
OUR NEXT EVENT
Wednesday 2nd December
Online
What members and guests say
"Sharon runs a thoroughly professional outfit at The Business Network - but I don't mean professional as in stuffy, austere and pressured. Rather, it has been from the first an extremely welcoming environment where everyone's knowledge and expertise is respected and the emphasis is on quality relationships. As the meetings occur regularly (accompanied by some fine food and in some beautiful locations) we get to, in Sharon's words "know, like and trust" each other - surely a prerequisite for any sort of friendship or business relationship to blossom. I particularly like the way Sharon manages to make everyone feel included - always with half an eye on the room to make sure of this. If Carlsberg did hostesses...... It's lovely to talk business in such a convivial environment and we have already formed some valuable connections which will drive our business forward - almost all of these would not have occurred in the normal course of events so it's a definite win-win situation. Follow-up from Sharon is also excellent - it's clear she takes great pride in the service she provides. Thank you."
David Griffiths
FionaVitality
"Having run my own network club in Poole, I appreciate the hard work and effort that goes into running a monthly networking lunch. However, Sharon's dedication, organisational and hosting skills really make attending her monthly Business Network lunches a pleasure. Her professional approach ensures a great mix of decision makers, carefully considered table plans and interesting seminars and each lunch has a relaxed atmosphere. I can't recommend Sharon and Business Network South Herts enough if you are looking to network with like-minded professionals and 'do business'."
Hayley Grigor
Gain Momentum