Event Timings
Please come and join us.
To help you plan your day here are the timings of our events:
10.00 am - Registration for optional free seminar
10.30 am - Seminar starts
11.45 am - Registration for lunch
12.30 pm - Sit down for lunch
2.00 pm - Close
Event Dates
A list of all our forthcoming events. Please click on the event for details of future Pre-lunch Seminars.
June: Wednesday 5th, Beales Hotel, Hatfield

Time - 10.00 am Registration and Refreshments for a 10.30 am Start

Presenter - Will Kintish

Topic - The Power of the Question

Content

We attend business events to meet new people, reinforce relationships, gather useful information and see if our services will match the needs of potential clients.

The most effective way to spot these opportunities is to ask the right questions. There is a 4- part process to follow to get the very best from your networking. This pre-lunch talk takes you through that process. It includes:

the ice-breaker question,
the best 'small talk' question
the popular business question
the follow-up question.


About the Presenter

Since the year 2000 Will Kintish has shown thousands in the business, academic, professional and financial communities how to become more effective and confident networkers.

With the ubiquitous use of social media and mobile devices, the old-fashioned face-to-face relationship is fast losing the communications race. Will speaks loudly that the old-fashioned way still has to be the best for building rapport.

He is a published author of the bestselling book ?The Networking Survival Guide, has presented to 90,000+ people over 1500 times

His website is www.kintish.co.uk

July: Wednesday 10th, Beales Hotel, Hatfield

Time - 10.00 am Registration and Refreshments for a 10.30 am Start

Presenter - Suzanne Marshall - Protech Solutions + Jackie Giblin - VSL

Topic - TBC

August: Wednesday 14th, De Vere Theobalds Estate, Cheshunt

Time - 10.00 am Registration and Refreshments for a 10.30 am Start

Presenter - Amit Wason - CBiz + Hina Patel - Operations Mapping Services

Topic - TBC

September: Wednesday 25th, Holiday Inn, London Elstree

Time - 10.00 am Registration and Refreshments for a 10.30 am Start

Presenter - Dexter Moscow - Audience Dynamics

Topic - The 9 Steps to Sales P.O.T.E.N.T.I.A.L

CONTENT

The 9 Steps to sales P.O.T.E.N.T.I.A.L. is a step by step process that enables you to achieve success in your business meetings and ensure that you have a formal, effective sales process, otherwise you will be subject to your prospects process. Which is:

How can you help me?
What are your ideas to solve my problems?
How much is it going to cost?
Send me your proposal.

What happens next? You send them your proposal and they do one of three things:

Send it to their existing supplier,
Decide to do it themselves.
Or even worse, use your proposal as a template to send to your competition.

The 9 Steps to sales POTENTIAL will help you keep on track, know where you are in the conversation and allows you to keep control, it give all parties a clear understanding of what happens next and either do the deal, arrange a further meeting, or be prepared to walk away.

This structured approach will enable you to create a positive, engaging and professional impression from the moment you enter the room to when you leave it.

The session will include active participation from the delegates and in so doing they will leave with a formal business winning sales process.

ABOUT THE PRESENTER

Dexter started his career in advertising working for a Mafia-connected advertising agency, today he is a Keynote Speaker, Influencing Skills Coach and TV Presenter.

A passion for people and a desire for results led Dexter to the role of senior trainer at QVC, where he coached business owners on how to successfully sell their products to an invisible audience.

Roles ranging from Sales Director to Equity Partner; Head of Training to Business Owner taught Dexter many valuable lessons. Leading him to understand his client?s problems enabling Dexter to help them deliver business-winning pitches, presentations and control their prospecting conversations.

This and myriad training methodologies that have been put to the test over decades inform Dexter's unique approach to coaching helping others to gain the most when communicating with colleagues, teams, clients and customers.

Dexter is married with twin sons, and 4 grandchildren, and lives in Hendon.

Built on five decades of sales experience, His book Stand Up & Sell will show you how to: * Move away from using the PowerPoint crutch; * stop ?selling? by truly understanding the other person?s needs; * no longer hide but take centre stage; * stop losing out to the competition; * no longer waste time and money at networking events; * become a better storyteller (not a better liar!); * master the art of face to face conversations.



October: Wednesday 30th, Aldwickbury Park Golf Club

Time -

Presenter -

Topic -

November: Wednesday 20th, Aldwickbury Park Golf Club

Time -

Presenter -

Topic -

December: Wednesday 11th, Beales Hotel, Hatfield

Time -

Presenter -

Topic -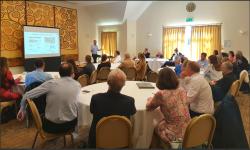 Come and join us at
OUR NEXT EVENT
Wednesday 5th June
Beales Hotel, Hatfield
What members and guests say
"Thanks again for enabling an atmosphere where it is so easy to meet the right sort of people and do business."
Carole Fossey
be Resources
"Lovely lunch - the fish was delightful - and a good table group with that BNSH magic ingredient; a table of people seemingly with nothing in common that, within 10 minutes were bouncing ideas and suggestions with each other about possible leads, marketing ideas etc. "
Judie Caunce
Events Plus Ltd