Event Timings
Please come and join us.
To help you plan your day here are the timings of our events:
11.00 am - Log on
11.10 am - Seminar starts + Q&A Session
11.40 am - "Table Time"
12.30 pm - Close
Event Dates
A list of all our forthcoming events. Please click on the event for details of future Pre-lunch Seminars.
June: Wednesday 3rd, Online

Time - 11.00am

Presenter - Olivier Carion - The Sales Masters Guild

Topic - 3 Keys to Growing Your Business Successfully in the "New Normal"

Facing the many business challenges brought on by the global health crisis has been and remains very difficult for many of us. How are we coping? What specific steps are we taking to prepare for what's around the corner? What does it take to grow in a shifting environment?

During this workshop we will discuss three essential keys to help your business survive and thrive in difficult circumstances:

1. The right business model to help you sail across the rough seas

2. The right mindset to drive your business through unexpected challenges

3. The reverse engineered plan to achieve your business goals


July: Wednesday 8th, Aldwickbury Park Golf Club

Time - 11.00am

Presenter - Dexter Moscow

Topic - Maximising your video conferencing and Video creation

Content

With the restrictions placed upon our movements, video conferencing and video creation is becoming the ideal way we communicate with each other.

However, this means we must be more effective in front of our cameras.

Dexter will illustrate how:

The right tone
The right language
The right message

Ensures our communication achieves what we need it to.

He will also discuss how to.

Move away from using the PowerPoint crutch.
Stop 'selling' by truly understanding the other person?s needs.
No longer hide but take centre stage.
Stop losing out to the competition.
Become a better storyteller (not a better liar!),
Master the art of visual face to face conversations.

Join us for Dexter's interactive workshop and learn how to influence and persuade clients more effectively online.

About the Presenter
Dexter was chief guest trainer for QVC The Shopping Channel for 16 years, working behind the camera teaching guest presenters how to sell their products on the channel. He also presented in front of the camera selling £millions of products for major technology and retail companies.
As there was no direct contact this was effectively selling to an 'invisible audience'.

A passion for people and a desire for results led Dexter to work with business owners and in the corporate arena coaching them how to successfully 'sell' their products and services through storytelling.

This led him to write Stand Up and Sell or should it now be called Sit Down and Zoom?

The training methodologies in the book informs his unique approach to helping others to gain the most out of their communication with colleagues, teams, client?s, and customers and in this Televisual era via video conferencing and video creation.

Dexter started his career in advertising working for a Mafia-connected advertising agency, today he is a Keynote Speaker, Influencing Skills Coach and TV Presenter.

Roles ranging from Sales Director to Equity Partner; Head of Training to Business Owner taught Dexter many valuable lessons. Leading him to understand his client's problems enabling Dexter to help them deliver business-winning pitches, presentations and control their prospecting conversations.

This and myriad training methodologies that have been put to the test over decades inform Dexter's unique approach to coaching helping others to gain the most when communicating with colleagues, teams, clients, and customers.

Dexter is married with twin sons, and 4 grandchildren, and lives in Hendon.


August: Wednesday 5th, Aldwickbury Park Golf Club

Time -

Presenter -

Topic -

September: Wednesday 9th, Holiday Inn

Time -

Presenter -

Topic -

October: Wednesday 14th, Holiday Inn

Time -

Presenter -

Topic -

November: Wednesday 11th, Holiday Inn

Time -

Presenter -

Topic -

December: Wednesday 2nd, Aldwickbury Park Golf Club

Time -

Presenter -

Topic -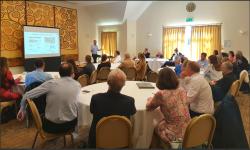 Come and join us at
OUR NEXT EVENT
Wednesday 3rd June
Online
What members and guests say
"I'm so pleased Sharon approached me to go along to the Business Network South Herts. I've met and done business with many excellent contacts and had so much fun too. Working independently as I do it's really lovely to meet up with like minded people once a month over a very civilised lunch at a variety of excellent locations. Sharon is highly organised and completely committed to driving my business forward. Thanks Sharon :)"
Jo Hailey
Striking Places
"Finding a networking organisation that meets all the objectives can be difficult. Many are glorified excuses for a social get together, or they are frequented by people who are not decision makers in their organisation. Running a successful networking group is no easy task, it takes meticulous planning, fabulous organisation skills, the patience of a saint and a leader/organiser with a great personality and the capacity to bring the right people together. I am happy to say that Sharon manages to accomplish all of these things, rarely have I visited such a well-run, useful, entertaining and beneficial networking group as Business Network South Herts. I was made to feel welcome, was impressed at how efficiently the meeting was conducted and it was clear that attention to detail comes naturally to Sharon. If you want to network with business owners/decision makers, meet interesting people, and have the opportunity to promote your business then Business Network South Herts is for you."
Sue Benoke
LMI