Event Timings
Please come and join us.
To help you plan your day here are the timings of our events:
10.00 am - Registration for optional free seminar
10.30 am - Seminar starts
11.45 am - Registration for lunch
12.30 pm - Sit down for lunch
2.00 pm - Close
Event Dates
A list of all our forthcoming events. Please click on the event for details of future Pre-lunch Seminars.
August: Wednesday 14th, Theobalds Estate

Time - 10.00 am Registration and Refreshments for a 10.30 am Start

Presenter - Amit Wason - CBiz

Topic - Marketing is a marathon not a sprint

Marketing is often seen as a "thing to do" when we have time and are not busy - as something that can be done later or outsourced. Often, we expect to be able to turn it on and see leads increase. While this may work for some types of businesses, for many - especially more complex and service type ones - that just isn't the case.

In this seminar Amit will cover how over the years he has seen the need for marketing grow and the way to market change dramatically. Having tried several different approaches to marketing - and seeing what worked and (more often) what did not - he has seen that content marketing is a powerful way to get your business known and to get leads in. However, content marketing is more of a marathon than a sprint and you need to be in it for the long haul.

The objectives of the seminar are to:

Understand why content is king
Realise the ownership & drive needed
Formulate an idea of who can do the marketing
How to get started
Putting time in your diaries for this
Making it part of your working week (every week)

September: Wednesday 25th, Holiday Inn, London Elstree

Time - 10.00 am Registration and Refreshments for a 10.30 am Start

Presenter - Dexter Moscow - Audience Dynamics

Topic - The 9 Steps to Sales P.O.T.E.N.T.I.A.L

CONTENT

The 9 Steps to sales P.O.T.E.N.T.I.A.L. is a step by step process that enables you to achieve success in your business meetings and ensure that you have a formal, effective sales process, otherwise you will be subject to your prospects process. Which is:

How can you help me?
What are your ideas to solve my problems?
How much is it going to cost?
Send me your proposal.

What happens next? You send them your proposal and they do one of three things:

Send it to their existing supplier,
Decide to do it themselves.
Or even worse, use your proposal as a template to send to your competition.

The 9 Steps to sales POTENTIAL will help you keep on track, know where you are in the conversation and allows you to keep control, it give all parties a clear understanding of what happens next and either do the deal, arrange a further meeting, or be prepared to walk away.

This structured approach will enable you to create a positive, engaging and professional impression from the moment you enter the room to when you leave it.

The session will include active participation from the delegates and in so doing they will leave with a formal business winning sales process.

ABOUT THE PRESENTER

Dexter started his career in advertising working for a Mafia-connected advertising agency, today he is a Keynote Speaker, Influencing Skills Coach and TV Presenter.

A passion for people and a desire for results led Dexter to the role of senior trainer at QVC, where he coached business owners on how to successfully sell their products to an invisible audience.

Roles ranging from Sales Director to Equity Partner; Head of Training to Business Owner taught Dexter many valuable lessons. Leading him to understand his client?s problems enabling Dexter to help them deliver business-winning pitches, presentations and control their prospecting conversations.

This and myriad training methodologies that have been put to the test over decades inform Dexter's unique approach to coaching helping others to gain the most when communicating with colleagues, teams, clients and customers.

Dexter is married with twin sons, and 4 grandchildren, and lives in Hendon.

Built on five decades of sales experience, His book Stand Up & Sell will show you how to: * Move away from using the PowerPoint crutch; * stop ?selling? by truly understanding the other person?s needs; * no longer hide but take centre stage; * stop losing out to the competition; * no longer waste time and money at networking events; * become a better storyteller (not a better liar!); * master the art of face to face conversations.



October: Wednesday 30th, Aldwickbury Park Golf Club

Time -

Presenter -

Topic -

November: Wednesday 20th, Aldwickbury Park Golf Club

Time -

Presenter -

Topic -

December: Wednesday 11th, Beales Hotel, Hatfield

Time -

Presenter -

Topic -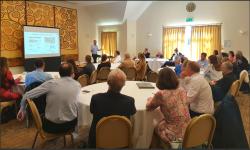 Come and join us at
OUR NEXT EVENT
Wednesday 14th August
Theobalds Estate
What members and guests say
"Thanks again for enabling an atmosphere where it is so easy to meet the right sort of people and do business."
Carole Fossey
be Resources
"Joining the Business Network South Herts has been a revelation to me as my previous experiences of other Networking Groups was a real turn off. The Business Network format has a working lunch feel to it that allows even the least experienced networker to shine . . . and enjoy"
Brian Light
Pharoscoach