What happens at a Business Network South Herts Zoom Event?
11.00 am - Log on to Zoom and after a quick chat you'll be put in a breakout room with a few other people to network before the seminar.
11.10am - Back in the main event room again, I welcome everyone, remind members and visitors of the ethos of BNSH and offer some networking tips.
11.20 am - It's time for the seminar and Q&A session. This is educational, not a sales pitch; a great opportunity to learn from other members and for presenters to showcase their knowledge and expertise.
11.50 am - Networking continues at virtual 'tables' of 6 or 7 people in breakout rooms. These table plans are prepared and shared in advance, and I ensure that you'll be placed strategically.



Your breakout room host will facilitate this part of the event and keep things running smoothly. Everyone in the room will be invited in turn to take 2 or 3 minutes to talk about their business and the opportunities and contacts they're looking for. It's wise to think about what you'd like to say in advance.




BNSH room hosts ensure that your breakout room networking time is effectively managed, so everyone gets a chance to speak.




There's always time at the end of this session for a more general conversation.




According to members and visitors this is where the networking magic happens!

12.40 pm - Announcements, information on the next seminar.
12.45 pm - The event ends promptly so you can get on with your day.



We recommend that members and visitors arrange 1:1s to get to know each other better outside the group.
Event Dates
A list of all our forthcoming events. Please click on the event for details of future Pre-lunch Seminars.
May: Wednesday 12th, Online

Time - 11.00am

Presenter - Emma Ellis - Amber Mountain Marketing

Topic - Building a Marketing Strategy for your Business

CONTENT

In this session Emma will talk through the importance of marketing strategy in business and give examples of several different strategies that can help any business to increase awareness and build their customer base.

ABOUT THE PRESENTER

With over 15 years experience in the digital arena, award-winning Chartered Marketer Emma Ellis has a proven track record for transforming businesses through high-performing content and creative online campaigns.

Emma is passionate about helping SMEs overcome their digital challenges, reach their business goals and achieve online marketing success.

Since 2018, Amber Mountain Marketing has helped both new and established Herts businesses to achieve digital marketing success. Amber Mountain Marketing prides itself on building genuine, long-lasting relationships with their clients and have a proven track record for increasing profits and accelerating business growth.

June: Wednesday 16th, Online

Time -

Presenter -

Topic -

July: Wednesday 14th, Aldwickbury Park Golf Club, Harpenden

Time -

Presenter -

Topic -

August: Wednesday 4th, Village Hotel, Elstree

Time - 10.00 am Registration and Refreshments for a 10.30 am Start

Presenter - Alex Crow, Stress Boffin

Topic - Workshop on Managing Stress and Building Resilience

A one hour workshop on building resilience and proactively preventing and dealing with stress, that ensures you have the most effective workforce, with less lost days due to sickness and a more focussed attitude to work.

WORKSHOP PROGRAMME

Exploring the causes of stress (in the workplace and at home)

Building Resilience
Reframing (cause versus effect)
The three lenses (three different ways of looking at stressful situations)
Tips to avoid feeling overwhelmed and more

Interactive Exercises

Acting Mindfully
Body scan
Heartmath exercise
Breathing exercise

ABOUT THE PRESENTER

As well as being a professional mindreader, Alex Crow is also Master Practitioner of Neuro Linguistic Programming and runs workshops on managing stress and building resilience as "The Stress Boffin" for companies of all types and sizes throughout the UK and beyond. His workshops are interactive and engaging and give everyone the tools and resources they need to manage their stress no matter the cause.



September: Tuesday 14th, Double Tree by Hilton, Borehamwood

Time -

Presenter -

Topic -

October: Wednesday 13th, Aldwickbury Park Golf Club, Harpenden

Time -

Presenter -

Topic -

November: Wednesday 10th, Double Tree by Hilton, Borehamwood

Time -

Presenter -

Topic -

December: Wednesday 1st, Double Tree by Hilton, Borehamwood

Time -

Presenter -

Topic -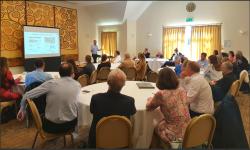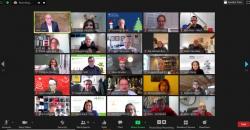 Come and join us at
OUR NEXT EVENT
Wednesday 12th May
Online
What members and guests say
"Sharon runs a really vibrant but informal network group which goes the extra mile to welcome and be inclusive. With members from a wide breath of industries and services, the monthly lunches are excellently accompanied by engaging and relevant seminars. I would have no hesitation in recommending this group."
Nick Silverstone
Wagada
"This business network is well run and a great place to meet like minded business owners to grow your personal network and business."
Gary Brown
Business Doctor Hemel Hempstead & Watford