Event Timings
Please come and join us.
To help you plan your day here are the timings of our events:
11.00 am - Log on
11.10 am - Seminar starts + Q&A Session
11.40 am - "Table Time"
12.30 pm - Close
Event Dates
A list of all our forthcoming events. Please click on the event for details of future Pre-lunch Seminars.
August: Wednesday 5th, Online

Time - 11:00am

Presenter - Dave Elliott - Copy Quality and Alan Hecht - The Business Train

Topic - The Dave Alan Show at Large - Post Covid GDPR & technology

The Dave Alan Show will be a chat about GDPR and the implications that have been caused by Covid and what to watch out for as we come out of lockdown properly. We also need to be aware of changes due to Brexit in general and some of the rules we are following when other European countries change things.

Dave and Alan will be discussing the technology aspects of GPDR including hardware and software issues.

September: Wednesday 9th, Holiday Inn

Time -

Presenter -

Topic -

October: Wednesday 14th, Holiday Inn

Time -

Presenter -

Topic -

November: Wednesday 11th, Holiday Inn

Time -

Presenter -

Topic -

December: Wednesday 2nd, Aldwickbury Park Golf Club

Time -

Presenter -

Topic -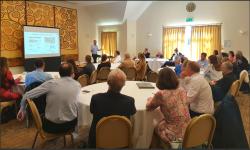 Come and join us at
OUR NEXT EVENT
Wednesday 5th August
Online
What members and guests say
"Thank you Sharon. I've been to a number of online networking events lately and this one has been one of the best. Lots of good contacts and a really good format"
Jon Gilbert
Jon Gilbert Photography
"Since launching my business, Distinctively Me, I have thrown myself into the ?networking? world with gusto. It is fair to say that the quality of the different groups is variable. Sharon is however one of the best! Since I was recommended to her group she has been brilliant. Sharon is super efficient but it is more than that - she really cares that all the members of her group feel part of something special and at the same time get a return on their investment. This is a tricky balance to achieve. She doesn?t just do things on the day of the meeting but throughout the month to make relevant connections wherever she can. I can not speak highly enough of Sharon or the Business Network South Herts group. I have already developed a potential business lead within the first month of being a member. "
Jill White
Distinctively Me