Event Timings
Please come and join us.
To help you plan your day here are the timings of our events:
11.00 am - Log on
11.10 am - Seminar starts + Q&A Session
11.40 am - "Table Time"
12.30 pm - Close
Event Dates
A list of all our forthcoming events. Please click on the event for details of future Pre-lunch Seminars.
September: Wednesday 9th, Online

Time - 11:00am

Presenter - Penny Sophocleous - Corporate Alchemy

Topic - 7 Simple Steps to Sustain Well-being

SEMINAR CONTENT

We have all been affected by the corona virus crisis - even if some elements have been positive. Our mental, emotional and physical health has come under pressure and for us to be at our best we need sustainable strategies, tools and practises that will keep us feeling well, buoyant and energised.

In this session Penny will provide 7 Key Activities, comprising of practises and tools that can be used to embed a high level of well-being. Most of them are simple, easy to do and accomplished within 10 minutes. Some of them are mind-set changes that can take a minute to activate and re-energize. They can all be incorporated into our lives easily. None require expensive equipment, or passionate dedication.

Well-being is our natural state, so the session will focus on how to stop unbalanced thinking patterns and introduce activities that return us to the state of peace, happiness and joy. They can be used tactically to counter-balance stressful experiences or, by practising them together and regularly, they build long-term resilience and sustainable levels of calm and well-being.

ABOUT PENNY

Penny Sophocleous is the founder and Managing Director of Corporate Alchemy, a coaching and training organisation that works with business owners and leaders enhancing their business and professional development and increasing team and enterprise flow.

Her clients benefit from her extensive experience in executive coaching, business development, psychology and neuroscience.

She helps business owners become super-confident by breaking their self-imposed blocks and achieving more than they thought they could, building their personal well-being, work-life balance and connection to their deeper purpose in life.

October: Wednesday 14th, Online

Time - 11.00am

Presenter - Fiona Mocatta - Copy & Content

Topic - HOW TO BE YOUR OWN COPYWRITER (and make more money)

CONTENT

Starting from the end
Triggering action in your target market and
10 things you can do to write better, right now

ABOUT THE PRESENTER

Fiona is a copywriter and content writer.

Armed with a useless Politics degree from Bristol University, Fiona spent a couple of years working for marketing agencies. In 1998 she started a six-month contract at Comic Relief. Five years later she left to set up her own copywriting business.

Since 2003 Fiona's worked for household names, SMEs and owner-run businesses. She works directly with clients and collaborates with other creative freelancers and agencies on larger projects.

Fiona loves creating new tones of voice and key messages which appeal to her clients' target markets. She spends most of her days writing websites, SEO websites, landing pages, blogs, articles, emails and other online and print marketing material.

November: Wednesday 11th, Online

Time -

Presenter -

Topic -

December: Wednesday 2nd, Online

Time -

Presenter -

Topic -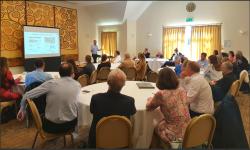 Come and join us at
OUR NEXT EVENT
Wednesday 9th September
Online
What members and guests say
"Brilliant value for money"
Howard Salinger
Travel Connection Group
"Thank you Sharon. I've been to a number of online networking events lately and this one has been one of the best. Lots of good contacts and a really good format"
Jon Gilbert
Jon Gilbert Photography