What happens at a Business Network South Herts Zoom Event?
11.00 am - Log on to Zoom and after a quick chat you'll be put in a breakout room with a few other people to network before the seminar.
11.10am - Back in the main event room again, I welcome everyone, remind members and visitors of the ethos of BNSH and offer some networking tips.
11.20 am - It's time for the seminar and Q&A session. This is educational, not a sales pitch; a great opportunity to learn from other members and for presenters to showcase their knowledge and expertise.
11.50 am - Networking continues at virtual 'tables' of 6 or 7 people in breakout rooms. These table plans are prepared and shared in advance, and I ensure that you'll be placed strategically.



Your breakout room host will facilitate this part of the event and keep things running smoothly. Everyone in the room will be invited in turn to take 2 or 3 minutes to talk about their business and the opportunities and contacts they're looking for. It's wise to think about what you'd like to say in advance.




BNSH room hosts ensure that your breakout room networking time is effectively managed, so everyone gets a chance to speak.




There's always time at the end of this session for a more general conversation.




According to members and visitors this is where the networking magic happens!

12.40 pm - Announcements, information on the next seminar.
12.45 pm - The event ends promptly so you can get on with your day.



We recommend that members and visitors arrange 1:1s to get to know each other better outside the group.
Event Dates
A list of all our forthcoming events. Please click on the event for details of future Pre-lunch Seminars.
February: Wednesday 10th, Online

Time - 11.00am

Presenter - Yiannis Yianni - ActionCoach

Topic - Resilience: Why it Matters, How to Get it, How to Grow it

CONTENT

Resilience is a quality we usually give little thought to and often misunderstand its significance to us. We tend to believe that we were born with it or have just developed it over time, but studies show that most people over-estimate their own level of resilience; and that can be dangerous.

However, we can actively develop and enhance our powers of Resilience. 'Tomorrow's Resilients' is a term that is already being used to describe those businesses that will thrive in 2021, indicating that it is a critical quality that can make the difference between merely surviving and actively thriving in the year ahead.

In this seminar we'll examine:

What is Resilience and why it matters?
How you can become aware of your current levels of Resilience and expose areas of 'risk'
The 3 steps that you can use to grow and develop your powers of Resilience

ABOUT THE PRESENTER

Yiannis Yianni is a Business and Leadership Development Coach. During a career spanning over 35 years, Yiannis has been instrumental in turning a range of small and medium-size businesses into highly successful and profitable organisations and building high-performing teams. He works with selected small-business leaders and their teams to help them overcome their challenges and build sustainable success.

Yiannis believes that success in business doesn't have to be complicated. There are a few key proven principles and strategies that, once mastered, can help to increase the profitability of any business, improve productivity and win you back time.

March: Wednesday 10th, Online

Time - 11.00am

Presenter - Olivier Carion - The Sales Masters Guild + Dexter Moscow - Audience Dynamic

Topic - The Mental Fitness Pathway to Peak Performance

CONTENT

THE ONLY THING WE HAVE CONTROL OVER IS HOW WE REACT TO ANY GIVEN SITUATION.

When you approach a problematic business or personal situation, what are the voices you hear in your head?



Are they unhelpful 'inner critics' sitting like a 'devilish parrot' on your shoulder chirping negativity into your ear causing you stress, anxiety and procrastination?


Are they continually limiting your business activity and focus as they constantly nag at you for not being good enough?


Telling you you're not worthy, will make a fool of yourself or fail like you have done before and sabotaging your success.

If so, let us offer you a better, more positive perspective.

To enable you to see whatever problems you face as a 'gift', an 'opportunity to learn' and a 'way to enhance' your personal and financial wellbeing.

In this interactive discussion, we will explore 3 key elements to ensure you achieve Peak Performance for your business and personal goals in 2021

How to turn the volume down on your debilitating self-talk.
How, as with physical fitness, you can strengthen your mental fitness.
How to change your perspective on the problems and negative situations that frustrate your growth.

ABOUT THE PRESENTERS

Dexter Moscow

In this age of remote communication Dexter's focus is ensuring his clients present themselves in the most impactful and persuasive way on platforms such as Zoom, whether selling a product, a service or an idea.
At QVC - The Shopping Channel, as a guest presenter, he sold millions of pounds of products for major brands and as their chief trainer taught others how to do the same.
He uses those same concepts to help his clients win more business be it at a networking meeting, when pitching or in personalised videos.
'How we present ourselves must be at the highest level to beat our competition'.

Olivier Carion

As a personal business mentor, Olivier helps busy entrepreneurs grow, thrive and achieve the income and work-life balance they want and deserve from their hard work. The businesses he works with are either looking to be turned around or taken to a whole new level of performance. The support provided deals with both mindset and growth pathways, aided by expertise from many professional connections.
A former business owner himself, Olivier is a business consultant with an extensive background as a mentor in personal and professional development. His international career in more than 10 countries has been guided by his desire to help individuals and companies grow.

April: Wednesday 14th, TBC

Time -

Presenter -

Topic -

May: Wednesday 12th, TBC

Time -

Presenter -

Topic -

June: Wednesday 16th, TBC

Time -

Presenter -

Topic -

July: Wednesday 14th, TBC

Time -

Presenter -

Topic -

August: Wednesday 4th, TBC

Time -

Presenter -

Topic -

September: Tuesday 14th, TBC

Time -

Presenter -

Topic -

October: Wednesday 13th, TBC

Time -

Presenter -

Topic -

November: Wednesday 10th, TBC

Time -

Presenter -

Topic -

December: Wednesday 1st, TBC

Time -

Presenter -

Topic -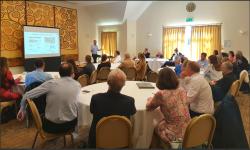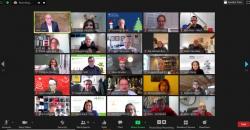 Come and join us at
OUR NEXT EVENT
Wednesday 10th February
Online
What members and guests say
"If you want to grow your network, boost your business and meet interesting and friendly people, come to the next South Herts Business Network meeting. Sharon is calm, organised, strategically minded + empathetic; and South Herts is a very well run group which benefits greatly from Sharon's skills, experience and professionalism. "
Fiona Mocatta
Copy and Content
"Finding a networking organisation that meets all the objectives can be difficult. Many are glorified excuses for a social get together, or they are frequented by people who are not decision makers in their organisation. Running a successful networking group is no easy task, it takes meticulous planning, fabulous organisation skills, the patience of a saint and a leader/organiser with a great personality and the capacity to bring the right people together. I am happy to say that Sharon manages to accomplish all of these things, rarely have I visited such a well-run, useful, entertaining and beneficial networking group as Business Network South Herts. I was made to feel welcome, was impressed at how efficiently the meeting was conducted and it was clear that attention to detail comes naturally to Sharon. If you want to network with business owners/decision makers, meet interesting people, and have the opportunity to promote your business then Business Network South Herts is for you."
Sue Benoke
LMI