Event Timings
Please come and join us.
To help you plan your day here are the timings of our events:
10.00 am - Registration for optional free seminar
10.30 am - Seminar starts
11.45 am - Registration for lunch
12.30 pm - Sit down for lunch
2.00 pm - Close
Event Dates
A list of all our forthcoming events. Please click on the event for details of future Pre-lunch Seminars.
October: Wednesday 10th, Holiday Inn, London Elstree

Time - 10.00 am Registration and Refreshments for a 10.30 am Start

Presenter - Ray Rubenstein + Rashmin Shah - Parker Cavendish Chartered Accountants

Topic - Ready Steady Cook - Making Tax Digital

We are in the starting blocks with our utensils waiting for the competition to commence. This is a competition with a difference. There is no gourmet dish at the end but there is something special. In April 2019, the Digital competition commences which will revolutionise the way businesses and eventually individuals maintain their accounting records and deal with HMRC. Out go the old accounting manuals, handwritten accounts ledgers, scraps of paper and spreadsheets. From that date all VAT registered businesses above the threshold of £85,000 will need to maintain their accounting records digitally using compatible software. The VAT returns will also need to be transmitted to HMRC directly from the software. No more cooking the books! Avoiding boiling over, spillage, wastage or undercooked records, Ray Rubenstein and Rashmin Shah, both of Parker Cavendish Chartered Accountants, will talk you through the process and how this will affect you and your business going forward so that when the gun is fired, you are ready and prepared to serve up a dish fit for HMRC. MAKING TAX DIGITAL - a seminar not to be missed next month at a venue near you.

November: Wednesday 7th, Beales Hotel, Hatfield

Time - 10.00 am Registration and Refreshments for a 10.30 am Start

Presenter - David Ventura - V7 Consultancy

Topic - TBC

December: Wednesday 5th, Holiday Inn, London Elstree

Time -

Presenter -

Topic -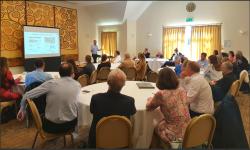 Come and join us at
OUR NEXT EVENT
Wednesday 10th October
Holiday Inn, London Elstree
What members and guests say
"Thanks again for enabling an atmosphere where it is so easy to meet the right sort of people and do business."
Carole Fossey
be Resources
"Sharon runs The Business Network South Herts with aplomb. Organising a group so geographically and industrially diverse must be a big challenge, but the results of so much dedication behind the scenes are monthly networking lunches which run like clockwork and a laid-back and informal atmosphere ideal for relationship building; and Sharon takes the time to get to know members' businesses and proactively to identify additional opportunities for all."
Robin Haynes
Currency Index